If Your Crooked
P-85 GO STRAIGHT! P-85
Patent NO. 5,775,071
With Protecto's new GO STRAIGHT!
This allows horses with injured or deformed legs, or just bad gaited horses, to GO STRAIGHT by pushing out the elbow which will allow the horse to go wider with less chance of hitting their knees, shins, and legs.

This is nothing like the spreaders or gliders that are already on the market.

Available in 2 sizes: Regular and Short

Here's the Difference
| | |
| --- | --- |
| Go Straight | Spreaders & Gliders |
| Turns the horse's elbow out, straightening his stride. | Pulls the horse's front legs apart. |
| Adapts easily to all types of bikes. | Works only on SOME race bikes. |
| Less chafing. | Burns and chafes |
| Does not tire the horse because it allows the horse's natural motion. | Tires horse easily as it restricts the horse's natural motion. |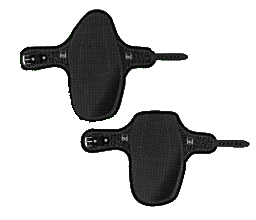 Protecto strongly recommends using our New Design 301 DEEP CUP KNEE & ARM BOOT OR 301K DEEP CUP 1/2 KNEE BOOT if your horse needs the GO STRAIGHT. They definitely work great together. The newly designed 301 DEEP CUP KNEE & ARM BOOT OR 301K DEEP CUP 1/2 KNEE BOOT allows the boot to fit closer to the horse than any other deep cup boot. It has a new wrap around design in back that stops horses from catching behind the boot and turning the boot around. It's not only for the big-kneed horse, but also for the regular -size kneed horse who needs more protection than Protecto's 101, 105 or 201 Knee Boots.
The Super Boot is exactly like our standard P-301 Deep Cup Boots except it incorporates an extra built-in protection made from super strong polycarbonate. The strong polycarbonate absorbs the impact of that horse who hits so hard that all the amount of leather or felt won't help. This boot will still fit close and will fit as well as the standard P-301. The other 5 % may want to use the P-301S or P-301 SK Super Boot.
Quick Hook Up Pad
View Instructions for the GO STRAIGHT
Back To Home Page