Instructions for The WRAPPER
P-520

The Ultra-Lite Trotting Boot that Replaces the Hind Brace Bandages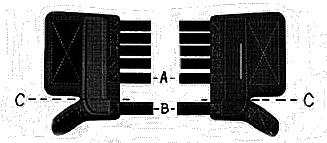 We suggest you hook the second strap from the bottom first (A). Adjust boots for speedy cut fit and snuggly draw up the speedy cut strap (B).


Draw up all straps snug.


If you have a small horse, the Wrapper may be trimmed. All straps may be cut shorter for fit, especially the speedy cut strap (B) for a very small pastern horse.


If you have a Pacer, a few horsemen will cut off the speedy cut area (C). Some light restiching may be needed.


REMEMBER
The Wrapper is ideal for its special purpose but is not suggested for horses that repeatedly strike or hit their hind legs hard. (Use like brace bandages)
Not Guaranteed against wear, abrasion, tear or accidental failure, etc.
Back
Protecto Horse Equipment, Inc.
Phone: 586-754-4820 Fax: 586-754-4821