Flipper
P-58
FIT THEM WITH A 'FLIPPER'
A MUST FOR COLT TRAINING!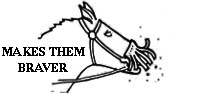 A rubber-fringed nose piece, used as a training-racing aid to prevent fright and shyness from flying dirt, stones, mud and water. All colts should train in the FLIPPER at least once before going to the races. Simulates adverse racing conditions.
RACE LEGAL IN MOST STATES.