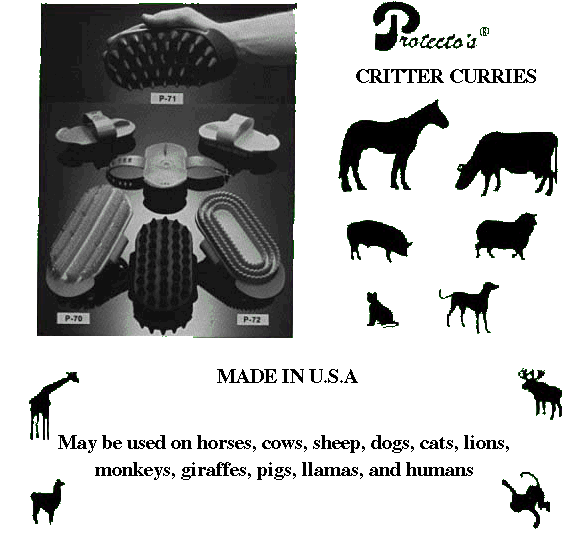 P-70 Protecto's Mane, Tail, Legs and Body Curry
(fine teeth) Red, blue, green, yellow, black or hot pink.
Are you tired of your horse's mane and tail being pulled out? You won't have to worry about it any more. Protecto's mane and tail curry will pull out less hair than the human hair brush. Try it out on yourself and see. Loaded with many fine teeth which makes it great for mane and tail but still ideal for legs and body. Removes deep-seated dirt and loose hair while it massages the horse. Will stay flexible in -30 F weather with teeth that will flex back to its original shape. Will outlast the cheap imports and the teeth will not break. Excellent grip with a highly flexible and adjustable strap which fits all sizes of hands even the little ones.
P-71 Protecto's Flex-A-Groomer Curry
(large teeth) Black or pink only.
Everyone is talking about this curry. Our groomer is ultra-flex and very light in weight which allows it to follow the contour of your horse's body and legs. Unlike our competitors, we offer approximately 30% more teeth and even in cold weather the teeth remain highly flexible. The adjustable strap fits all hand sizes, even the little ones. It cleans, deeply massages, and stimulates all at the same time. The large, flexible teeth clean deeply and hair will not build up in the teeth. It is great for shed-outs and great for your cats and dogs. Great for washing animals.
P-72 Protecto's Saw Tooth Curry
Black or pink only.
This flexible oval-shaped curry is the old standby-soft enough to use on your horse and great to clean your bristle brushes. It is more flexible and better made than the imports. This curry has the same highly flexible and adjustable strap, plus the saw teeth will stay flexible in cold weather.
Bandage Saver
Back To Home Page